"Anyone is welcome to any of our services where you will be received in love and friendliness and where you will find encouragement in your Christian Life."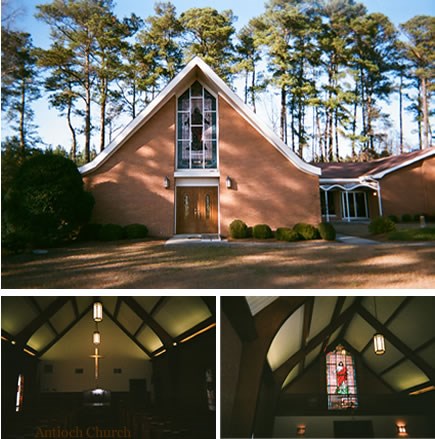 Antioch Church
4620 Willard Rd
Willard, NC, 28478

Established: 1885

Non-Denominational- Locally owned and governed.
(not part of a religious conference)

Pastor: Tommy Blanton
*Since 1975. A Pastor for 58 years

Membership: Under 50

Our Services are as follow:
Sunday School: 10:00 am
Sunday Worship/Teaching Service: 11:00 am
Mid-Week Service: Thursday, 7:30pm
How to Contact the Pastor:
5030 Willard Rd.
Willard, NC 28478
h: (910) 285-3802
c: (910) 290-4014
e: St.blanton79@gmail.com
Click here to send us a message
About Us
Basis of Beliefs
We take the Bible as the sole authority of the Christian life and church order.
Local Presence:
Antioch Church freely participates in community and individual needs as they arise. It always reaches out to special needs in a charitable way, even to national disasters.
Missionary Minded:
Antioch Church has always reached out in support of spiritual and financial needs in other parts of the world. For many years we have provided substantial financial support to a children's school in South Africa. By way of visits to the country of Estonia, the pastor spear-headed and the church provided funds to build a 125-seat brick church for a small congregation which had no means of their own. We gave it to them with no strings attached.
Special Emphasis of Faith:
Antioch Church embraces, with unwavering convictions, Bible principals that may not be considered by some to be "Orthodox" but are believed to be Bible-based. Some examples are:
Holiness of Life
Water Baptism in the name of Jesus
The Baptism of the Holy Ghost
Oneness View of God
A resurrection for the Christian only
The second visible return of Jesus and by this is the process by which all of God's people of all ages receive their crown of eternal life
We do not believe in the eternal torture of the wicked in a literal lake of fire.
We teach that the prophecies of the Book of Daniel and revelation pertain to the Church age from its inception to its end.
Prayer:
We strongly believe and teach corporate and individual and home prayers, including altar prayers. For prayer requests see contact information to the right.